RALLY INFORMATION
                    June 8th, 12:00 noon to 3:00 p.m.
                    Empire State Plaza, Albany, NY
Buses Departure Time: 7:30 a.m. (SHARP!)
Place of Departure:    NYSUT
                    Nassau Regional Office
                    1000 Woodbury Rd.
                    Woodbury, NY  11797       (Front of the building along Woodbury Rd.)
Buses Return to Woodbury:
           7:30 p.m. – 8:00 p.m.
more
Herricks Carnival Sponsored by the Herricks Community Fund
May 30 - June 2, 2013
Thurs. 6 p.m. - 9 p.m.
Fri. 6 p.m. - 10 p.m.
Sat. 12 p.m. - 10 p.m.
Sun. 12 p.m. - 8 p.m.
Please see attached flyer for more information
more
Common Core: Do What It Takes Before High Stakes
In her latest column appearing in the New York Times, AFT president Randi Weingarten writes about the promise—and the possible pitfalls—of the new Common Core State Standards. If implemented properly—namely, by ensuring that frontline educators are prepared to teach these rigorous new standards—we can provide all children with the problem-solving, critical-thinking and teamwork skills they need to compete in today's changing world. If not, they will end up in the dustbin of abandoned reforms. Read her full column.
One Voice United Rally - June 8th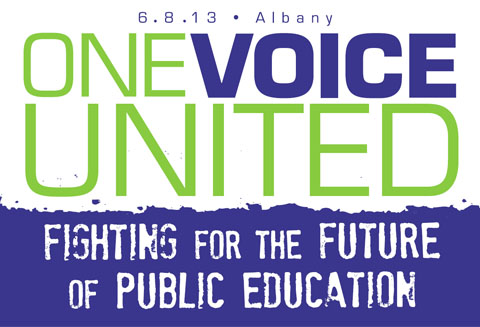 We encourage NYSUT members, parents, students and community activists to come to Albany on June 8 to speak with one voice to fight for the future of public education.
Find out more at NYSUT.org/RallyJune8.
Three-quarters of public school teachers surveyed support the Common Core State Standards, yet just 27 percent said their district has provided them with the tools and resources necessary to teach the standards, according to the results of a new AFT poll.
more
Pages